Weissenfel's Ridge - Hell's Canyon of the Snake River
I am one of those "Oh, this dirt road (leading off into nowhere) look interesting. Let's see where it goes!" I'll go anywhere there are no signs telling me not to, within the limits of the car or truck I'm driving at the moment. It helps a lot to be in a 4 wheel drive truck, but for these spur-of-the-moment explorations, I am often in a regular car. My confidence in my ability to evaluate the road and my vehicle's ability and stay within the limits of the two is, so far, without error. I have not fallen off a cliff or gotten stuck, although I have at times had to back up a very long way just to turn around. And it has led to some interesting discoveries, such as driving to the summit of the HooDoo ski slope mountain IN A CHEVY AVEO!

So, when Bill Logan saw the enticing little road sign "Weissenfel's Ridge Rd" cutting off up a drainage canyon from the already winding, scenic, and mildly intimidating Snake River Road leading up to Heller Bar and the entrance to Hell's Canyon, his suggestion that we explore the road was, I thought, brilliant. He knew I would be looking for a photographic opportunity to capture the immensity of the country surrounding us.

Hell's Canyon, carved into the granite of Idaho and the basalt of Washington and Oregon, is one of the greatest canyons on earth, twice as wide as the Grand Canyon. This is immense country so overwhelming that you feel like a molecule in the brick of a cathedral. It is also a geography that stirs the emotions. This is country for people of action, muscle, and self-sufficiency. No wimps allowed. And when one comes out on top and finds a wheat farm and farmhouse, isolated on a flat island plateau surrounded by thousands of feet of drop down to the Snake River on one side and the equally deeply carved creek canyon on the other, one can appreciate the intense possesiveness of the farmers, and the contempt in which they hold mere city-dwellers.

I can only presume the farm at the top was once, or perhaps still is, Weissenfel's place. It is quite a drive.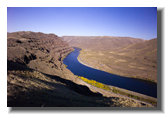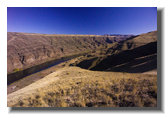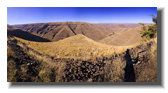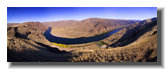 1
2
3 180 panorama
4 180 panorama
5 360 panorama and 360 VR movie