Hookipa - Maui
To visitors who drive at least the beginnings of the Hana Road on the north shore of Maui out of the airport in Kahalui, Hookipa is a pretty outlook over the ocean. But to hard-core surfers and especially windsurfers, Hookipa is one of the most mythical, revered spots on earth. The surf break is great, but it is the combination of that surf break and the side-shore trade wind that makes the spot unique to windsurders.
In my week on Maui in November, 2007, conditions unfortunately did not draw the windsurfers to Hookipa, so day after day I stalked the spot, trying to capture the essence of the place in as many photographic modes as possible. The mood of the place changes as often as the swell break and cloud shadows colliding. Here you will find traditional, single shot pictures, multi-shot collages and panoramas, 180 degree pannable panoramas, and full 360 degree Virtual Reality panoramas.
It is my hope there there is a little of something here for everyone. For the surfers and windsurfers who know it, perhaps a portrait of something you love. For those who have read and dreamed about it, a chance to see it as completely as possible until they can actually get there. And for everyone else? Hey, this is MAUI! 80 degrees, soft wind, sugar cane and pineapple fields, cloud capped volcanic mountains towering in front and behind. Is PARADISE a cliche?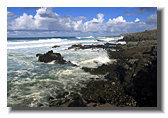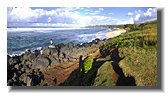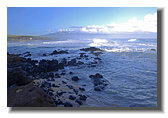 1
2
3
4